Home Gym Body-Solid Fusion 600 -
SPECIAL OFFER
Multi-Gym for demanding users.  
Recommended accessory
Description
Parameters
Alternatives (8)
Home Gym Body-Solid Fusion 600
Body-Solid FUSION 600 Personal Trainer

Ergonomically designed Fusion 600 offers you great way how to trim and tone your muscle mass. You canb perform over 60 exercises, including:

chest press
lat pull-down
leg extension
bicep curl, tricep extension
shoulder press and many more.
Technical description of Body-Solid Fusion 600 Multi-Gym:
new forward aesthetic design
Heavy Duty steel reinforcements for maximum stability
Bi-Angular press arm with ergonomically designed multi-position angles
easy-to-adjust 14-position curved 180° arms enable wide range of exercises including seated row
wide groove pulley for smoother motion 
adjustable chest supported seat
telescoping backrest with multiple position cushion
gas assist telescoping seat
two pre cabled accessory attachment points
compact footprint: W122cm x L193cm x H211cm
Body-Solid FUSION 600 Multi-Gym includes:
low row pulley
bicep bar
straps
ankle strap
workout DVD
scheme of exercises
Body-Solid Fusion 600 optionals:
A
/ DIP and PULL-UP STATION (W249cm x L183cm x H211cm) - machine for all users intended for exercising dips and pull-ups
B
/ VERTICAL KNEE-RAISE/DIP STATION (W122cm x L251cm x H211cm) - machine intended for exercising middle and upper body part (knee raise, dips) 
C
/ LEG PRESS (W203cm x L201cm x H211cm) - machine focused on exercising thighs and gluteal muscles with fully adjustable backrest and a self-adjustment pivot 

D
/ MULTI HIP STATION (W208cm x L183cm x H211cm) - machine focused on exercising pull-ups and kicks with full range of motion
Prolonged warranty

Toned body parts: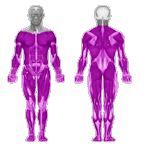 Recommended by 
Alois Hadamczik
, coach of Czech ice-hockey team

Home Gym Body-Solid Fusion 600 - Product parameters
Maximum height
not limited
Home Gym Body-Solid Fusion 600 - alternatives -
all in stock
Home Gym Body-Solid Fusion 600 is included in the following categories: