Moto Vest Scott Hivis
We are sorry, but this product is no longer available.
Recommended accessories
Description
Parameters
Alternatives (3)
Moto Vest Scott Hivis - Product parameters
Reflective features
Reflective features exponentially increase the user's visibility. They are suitable especially for winter months that come with mists and early sunset. However, they shouldn't be forgotten even during summer.
Reflective features on clothing items usually take the form of a reflective lettering or stripes that don't clash with regular wear.
yes
Material
It is essential for motorcycle clothing materials to be durable, permeable and wind and water resistant. The Reissa membrane is permeable and at the same time waterproof. It is made of polyurethane, a hydrophilic material that holds in water but not vapour. The Cordura material is extremely resistant to scratching and durable, even though it's very light. As a protection against cuts, Kevlar is 5x more effective than leather and 2x more effective than polyamide or cotton. Cotton is distinguished by great sweat absorption and thremoregulation properties. A special type of cotton fabric is denim, specific for its blue colour. It is durable and wear resistant.
A very popular material among motorcyclists is leather, prized for its thermoregulation properties and wind resistance. The disadvantage of leather moto clothing is that it often doesn't include many protectors.
Synthetic fibres, such as polyester, polyamide or nylon are non-absorption materials that absorb very little moisture and are resistant to scratching and tearing.
Polyester
Výjimatelné protektory
yes
Moto Vest Scott Hivis - alternatives -
all in stock
Motocross Vest SCOTT Enduro MXVII
More info
Men's Leather Motorcycle Vest OZONE Staff
More info
Universal moto Vest Rebelhorn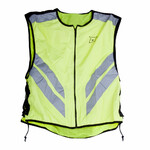 More info
Moto Vest Scott Hivis is included in the following categories: