inSPORTline Twist Stepper
We are sorry, this product is no more within our offer
Description
Parameters
Alternatives (2)
Reference (9)
inSPORTline Twist Stepper
Technical description:
new stepper design focused on development of inner and outer thighs
side-to-side motion
trim and tone your hips, thighs, abdominal muscles
adjustable load
smooth and silent operation
computer: scan, time, number of steps/min, calories
HC cathegory (according to EN957 norm)
weight: 12,5kg
maximum load capacity: 100kg
dimensions: L62 x W48 x H30cm
floor space dimensions: L56 x W46 x H29cm
maximum height of a person: no limit

Toned body parts: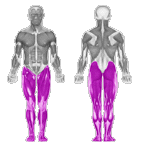 Recommended by Alois Hadamczik, coach of Czech ice-hockey team


inSPORTline Twist Stepper - Documents to download
inSPORTline Twist Stepper - Product parameters
Loading limit (kg)
100 kg
Maximální výška
bez omezení
inSPORTline Twist Stepper - alternatives -
all in stock
-36%
Mini stepper inSPORTline Cylina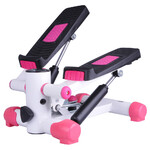 More info
Twist Stepper
More info
inSPORTline Twist Stepper - customer reviews
Source – Heureka.cz
Average rate 4.4 / 5 of 7 rates
Carol
Products purchased inSPORTline.cz
Stepper určitě můžu doporučit, perfektně posílí dolní polovinu těla a nezatíží ani tolik kolena
nízká cena
dobrá stabilita
skladný
lehký
nedostatečně popsaný návod na sestavení a obsluhu
Products purchased inSPORTline.cz
Na stoji necvičím dlouho, ale zatím jsem nenašla žádné nevýhody. Cvičení je jednoduché, stejně tak i nastavování stroje. Zatím je chod přístroje relativně tichý.
relativně tichý chod stroje
jednoduchá manipulace a nastavování
splnil moje očekávání
Products purchased inSPORTline.cz
Zatím jej používám krátce, ale cvičení mě baví. Dá se při cvičení koukat na jakýkoli oblíbený pořad, poslouchat hudba, prostě cokoli, co zpříjemní čas na stepperu. Chtěla jsem něco, co napodobuje chůzi, protože je to nejpřirozenější pohyb pro lidské tělo. Chtěla jsem si jej pořídit už před časem, ale až teď jsem si své příní splnila a nelituju.
Jednoduchý na používání
Snadno ovladatelný
Pro mě jediné proti je, že nemám tolik času, abych se mohla cvičení na stepperu věnovat víc.
Products purchased inSPORTline.cz
Toto je můj první stepper proto ho nemám s čím porovnat, přesto ho nehodnotím moc kladně. Například počítadlo - které bylo jedním z hlavních důvodů koupi - mi od začátku nefunguje. Přiložený návod je podle mě velice nekonkrétní a nedostatečný. Shrnutí - tento produkt mám krátce a už jsem s ním nespokojená, rozhodně ho nedoporučuji a pořád ještě zvažuji, zda ho nebudu reklamovat... Dále upozorňuji, že na obrázku vypadá mnohem méně robustněji než ve skutečnosti je... Na druhou stranu nebýt toho problému s počítadlem, asi bych si tolik nestěžovala, možná se jedná jen o vadu na mém produktu.
bolí z něho lýtka - funguje
je tichý
lze cvičit u televize
počítadlo je rozbité - od začátku mi nefunguje, baterka měla špatný kontakt,...
vypadává z něho šmír
přiložený návod byl podle mne nedostatečný, ze začátku mi šlapadlo nešlo rozpohybovat
velmi robustní- zbytečně dlouhá šlapadla
upadává jedna nožička
J.Svatunkova
Products purchased inSPORTline.cz
Celkově jsem velmi spokojená, stepper splnil vše, co jsem od něj chtěla. Používá se snadno. Nechtěla jsem žádná "madla" ani posilovací lana - při cvičení používám malé činky a neomezují mne při tom žádná "držadla" v mém cvičebním prostoru, takže mám přesně to, co jsem si zvolila a naprosto mi to vyhovuje.
Snadné sestavení
tichý
nastavitelná rychlost a výška nášlapu
velký display
různá "počitadla"
nepotřebuje moc místa
nemám
Lenka
Products purchased inSPORTline.cz
Jsem rozhodně ráda, že jsem si tento přístroj zakoupila a mohu ho jen a jen doporučit, zvážit jeho koupi by měli snad jen ti, kteří chtějí cvičit v nočních hodinách v blízkosti spících osob :-) V minulosti jsem vlastnila několik ministepperů, ale nezacvičila jsem si na nich tak dobře, navíc žádný nevydržel příliš dlouho, měly to většinou načasované přesně na záruční dobu, tak pevně věřím, že tento mne příjemně překvapí.
Přístroj je bytelný, avšak ne příliš těžký.
Dobrá cena.
Cvičení na něm je náročnější než na obyčejném ministepperu.
Skvěle procvičí svaly od pasu dolů (včetně) až po lýtka :-)
Po několikadenním používání vydává uchu nelahodící zvuky, ale nepovažuji to za důvod k jeho nezakoupení :-)
Premeth
Products purchased inSPORTline.cz
Na stroji se cvičí výborně, avšak znepokojují mě divné zvuky a zvětšující se oka úchytů řetězu. Vypadá to, že tento stroj bude mít zřejmě nízkou životnost.
Velice účinný stroj. Po odstranění krytu lze otáčivým pohybem matky přidat na zátěži.
Slabá zátěž dodávaná výrobcem. Neinformovanost o možnosti zvýšení zátěže. Velmi špatný computer, počítá jak se mu zlíbí. Vypadnutí řetězu z kola při přetočení stroje. Po 10 min cvičení nepříjemné skřípavé zvuky. Z uchycení řetězu k tělu stroje zůstavá na podlaze po cvičení černý šmír (zřejmě špatný materiál oka, obrušuje se). Design krytu neodpovídá fotografii v nabídce obchodu. Zaslaný odkaz na trenéra nepovažuji jako dárek, poněvadž to samé video není problém nalézt na serveru youtube.com
inSPORTline Twist Stepper with customers
V únoru 2012 bylo babče Terezii 85 let a znovu po dlouhých osmi letech začíná chodit!
---
Jmenuji se Marie a jsem už více než 10 let na invalidním důchodu. Ve svých 39 letech jsem onemocněla rakovinou štítné žlázy.
---
inSPORTline Twist Stepper is included in the following categories: