Twist stepper Roto InSPORTline 2.jakost
We are sorry, this product is no more within our offer
Description
Alternatives (2)
Reference (7)
Twist stepper Roto InSPORTline 2.jakost
Co znamená 2. jakost?
Produkty v druhé jakosti jsou 100% funkční, ovšem mají určitou drobnou vadu, která však nemá žádný vliv na samotnou funkčnost výrobku. Každý výrobek je zkontrolován servisním technikem a až poté uvolněn k prodeji. Na toto zboží se také automaticky vztahuje dvouletá záruka. 

Vzniklé vady mohou být následující: 
produkt byl sestaven z důvodu focení, není zpět rozmontován, ale je plně sestavený
při manipulaci na skladě dojde k pádu krabice (odřený rám)
zboží je vráceno zákazníkem do 14 dnů
poničená krabice během cesty směrem k zákazníkovi (přepravní společností)
sestavené produkty na předváděcí akce, veletrhy (minimální opotřebení)
InSPORTline Roto cardio twist stepper is an effective twist stepper with new rotating handlebar. The upper part of body is involved in the exercise which is more effective.

Technical description:
improved construction of handlebar
effective for strengthening of hips, thighs, abs, chest and back muscles
load can be regulated
twist movement
works fluently and quietly
computer displays: scan (automatic regime), time, step counter, calories
HC category (EN957 norm)
weight: 13 kg
maximum user weight: 100 kg
dimensions: 48L x 42W x 115H cm
maximum user height: bez omezení
Toned body parts: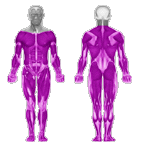 Recommended by 
Alois Hadamczik
, the coach of HC Vítkovice. 

Twist stepper Roto InSPORTline 2.jakost - Documents to download
Twist stepper Roto InSPORTline 2.jakost - alternatives -
all in stock
-56%
Inline skates Fila Primo PRO XT - 2nd class
More info
Mountain bike Galaxy Orbit - model 2014
More info
Twist stepper Roto InSPORTline 2.jakost - customer reviews
Source – Heureka.cz
Average rate 4.7 / 5 of 7 rates
Boubina
Products purchased inSPORTline.cz
Vybrala jsem si ho hlavně proto, že na něm posiluji téměř celé tělo,což u jiných stepperů nelze. Jsem s ním opravdu velmi spokojená. Doporučuji všem, kromě lidí co mají problémy s kolenními klouby.
Dlouho jsem uvažovala o koupi stepperu, když jsem narazila na tento, bylo rozhodnuto. 14 dní s ním je fakt znát, celkově se mi zlepšuje fyzička a také se snažím shodit nějaké to kilo. Cvičí se mnou i má 18ti letá dcera a i ona je velice spokojená.
fránková
Products purchased inSPORTline.cz
viz oddíl "pro"
posilovací přístroj pro všechny svalové skupiny, nezabírá moc místa, vhodný i do panelového bytu, pro posouzení vlivu na zlepšení kondice nemáme přístroj zatím dostatečně dlouho :-)
nic
zdena
Products purchased inSPORTline.cz
jsem moc spokojená s tímto strojem a používá ho i moje dcera a snacha kterým také moc vyhovuje
nezabere moc místa, je stále připraven k použití, při cvičení se držím, což je bezpečné a přitom se procvičuje i horní polovina těla
Vopelka Rostislav
Products purchased inSPORTline.cz
Vyděl jsem nabídku,prošel jsem si možnosti,cena byla celkem příznivá,tak jsem si produkt objednal. Používám ho často,min. 3x v týdnu a připojila se rodina. Používá se velmi dobře. Doporučil bych ho všem kdo bojují s kily a tvarem těla. Ano proto,že je to jednoduchý přístroj. Ověřím si kvalitu výrobku.Třeba formou doporučení.
Líbí se mi jednoduchost a účinnost přístroje.
Vyskoušel jsem několik jiných, tento je super.
Kubík František, Na Bílé 232 56501 Choceň
Products purchased inSPORTline.cz
Co se týká montáže, je jednoduchá sní nebyl problém, ale nevím zda byl výrobek vůbec odzkoušen, musel jsem volat na servis jak se nastavuje odpor na šlapání, protože poloha páky na obou stranách-odpor byl stejný Pokud se mi podařilo tyto věci odstranit, a bude stroj pracovat jak má, tak budeme spokojeni, jinak se na Vás znova obrátíme Jsou to dobře míněné připomínky ke zlepšení Vašich služeb.
Pro cvičení velmi dobrý
Zaráží mne nedokonalé technické provedení hlavně pohyblivých částí,převod na rukojetě-chybí podložky,matice se pohybem samovolně vytočí, dal jsem kontramatice
nedočetl jsem se v návodu jak hodně má být řetěz napnutý, už dvakrát došlo ke spadnutí, musel jsem vystřeďovat rokojeť
v návodu je napsáno povolení páky pro zátěž vpravo a utažení také
Anna
Products purchased inSPORTline.cz
Potřebuji trénovat nohy,hlavně v zimě a pohyb trupu je k tomu na víc.Rocket ROTO toto výborně splňuje.
Je mi už přes 60 let a jsem kardiak.Potřebuji dostatek pohybu a v zimě je to problém.Tak si každý den pěkně protáhnu nohy i když dobu cvičení 20 min.nejsem prozatím chopná dodržet .I tak je to fajn.
Products purchased inSPORTline.cz
Důvod výběru je kvalita provedení a možnost procvičit celé tělo.Dobře se na tomto stroji cvičí. Produkt používá celé rodina. Rozhodně při příštím nákupu upřednostním opět Vaší společnost INSPORTLINE.
kvalita provedení výrobku, výborná úprava použitých materiálů, výborné balení výrobku, spolehlivost výrobku
jen snad je potřeba zlepšit kvalitu použitého klíče pro montáž cvičebních strojů, je nepřesný a na utahování matic dost volný, při utahování křížovým šroubovákem může dojít ke zranění dlaně.