inSPORTline SEG 1658 Elliptical - lower quality
We are sorry, this product is no more within our offer
inSPORTline SEG 1658 Elliptical - lower quality
Co znamená 2. jakost?
Produkty v druhé jakosti jsou 100% funkční, ovšem mají určitou drobnou vadu, která však nemá žádný vliv na samotnou funkčnost výrobku. Každý výrobek je zkontrolován servisním technikem a až poté uvolněn k prodeji. Na toto zboží se také automaticky vztahuje dvouletá záruka. 

Vzniklé vady mohou být následující: 
produkt byl sestaven z důvodu focení, není zpět rozmontován, ale je plně sestavený
při manipulaci na skladě dojde k pádu krabice (odřený rám)
zboží je vráceno zákazníkem do 14 dnů
poničená krabice během cesty směrem k zákazníkovi (přepravní společností)
sestavené produkty na předváděcí akce, veletrhy (minimální opotřebení)
2in1 machine - elliptical ergometer of long step and a stepper. New elliptical of above-standard step height of 530mm ideal for home and commercial use.
Technical description:
magnetic system with electronic load control, an ergometer
16 resistance levels
performance: 48 - 250 Watts
9-kg flywheel of 274mm diameter, copper coated
Poly V-Belt system assures silent and smooth operation
classic and reverse motion
3-piece cranks with encased SKF bearings
step height: 530mm
aluminium pedal arms and front bar
pulse rate sensor in handgrips
additional solid handgrips for better stability
LCD displey
display readouts: time, distance, rpm, speed, calories, watts, pulse rate, target pulse rate, FAT%, BMI, BMR, body type
16 programs including 1 manual, 4 HRC, (60%, 75%, 80%, target pulse rate), BodyFat program, 4 user sets, 6 preset programs
transport wheels
MicroShift floor leveler
4C battery- or adaptor-powered computer
HC cathegory (according to EN957 norm)
EN957 certificate
floor space dimensions: L175 x W75 x H159 cm
height of a person: no limit
weight: 63 kg
load capacity: 150kg
Prolonged warranty

Toned body parts: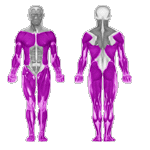 Recommended by
Alois Hadamczik
, coach of Czech ice-hockey team

inSPORTline SEG 1658 Elliptical - lower quality - Documents to download
inSPORTline SEG 1658 Elliptical - lower quality is included in the following categories: